Some LEAF & Choill Bheag updates August 2021
A chairde of LEAF Ireland,
We want to share some updates and news from LEAF Ireland before the busy Autumn kicks in!
LEAF STUDENT PARTICIPATES IN UNITED NATIONS ESD GATHERING:
LEAF Global have shared their lovely newsletter, which features some of our work in the Outdoor Education booklet which can be downloaded here.  LEAF student and teacher from Thomond Community College, Anna Linehan and Eric O'Donnell, who participated at the UN Education for Sustainable Development gathering in May 2021 are featured at this link, in the Stories from around the World.  Anna and Eric were supported by teacher and colleague Veronica Lavin.
TREES ARE BEAUTIFUL:
GLOBE Autumn Tree Observation Campaign – Register your school and share your observations and encounters with your local trees by taking part in their phenology campaign.  This means exploring why and how leaves change their colours in autumn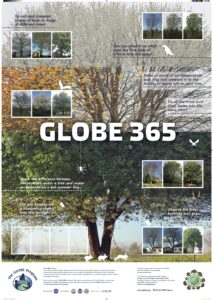 CORK ART PROJECT – Pop Up Forest:
We worked with TEST SITE, Collaboration with a City and Home Tree Ireland this summer.  The artists created a space for art, architecture, ecology and urban planning in the heart of Cork City, with the support of Cork County Council.  Home Tree installed 300 native trees and Choill Bheag provided the understory wild plant layers and educational signage.  We were invited to facilitate some short nature walk workshops with various groups in late July.  This included activities such as learning about the native trees, learning about Ogham, creating a small pond habitat and ecosystem restoration.  It was a lovely collaboration and the trees will be dispersed out to communities and schools this coming Autumn.
PLANTING CHOILL BHEAGS:
We will be planting 11 Choill Bheags in the coming school year.  These include 4 being planted in Cork, sponsored by Cully & Sully.  Another 6 are funded by Coillte and will be planted nationwide.  KBIGI are sponsoring the planting of another Choill Bheag at Drimnagh Castle Secondary School.  We will give more updates about these plantings in September.  We have been training staff within the Environmental Education Unit to work with us on these planting projects.
INVESTIGATE WOODLANDS WORKSHOPS:
LEAF Ireland and Green Schools Ireland will be collaborating once again to run Investigate Woodlands Workshops with 100 schools around the country.  This is funded by the Department of Food, Agriculture, and the Marine (DAFM) under the Woodland Support Projects 2021/22.  We will provide more information in early September for schools to register their interest in availing of a free outdoors woodland workshop in the coming school year.  This work builds on the previous workshops under Investigate Forests, also funded by the DAFM.
TÁ AN FÓMHAR AG TEACHT!
The Autumn is coming and we have a busy year ahead.  All of our work ties in with the UN Decade of Ecosystem Restoration and planting small pockets of native woodlands around the country is our contribution in action.  We will be in touch again in September with more updates and information on how you and your schools/community can get involved.
Slán go Fóill,
The LEAf and Choill Bheag Team