School's Out for Summer!
The second year of the LEAF programme has come to an end. The LEAF Team worked with 36 schools from the Limerick City and County from Autumn 2017 to June 2018.  This means that almost 1,000 students were involved in learning about forests, along with their teachers and parents.  Work with the schools included a practical School Based Workshop  introducing the importance of forests to sustain healthy life on earth and the webs of life that depend on them. This is followed by a Forest Based Workshop in Coilte's Curragh Chase Forest Park.  The forest visits include a variety of activities, stories about the history of the place and hands on skills and learning.
Schools are also required to do classroom work in between these two workshops. The schools had all chosen a Theme for their year long Learning about Forests Programme and chose from Biodiversity, Water, Climate Change, Products or Community.  These topics were also able to complement their Green School Flag work. Participating schools submitted a simple End of Year Report, outlining their activities and any increases in levels of knowledge about forests. The LEAF Team have been busy reviewing these Reports and all schools have received a Certificate of Participation for their positive efforts.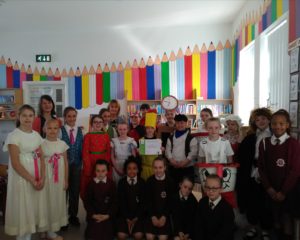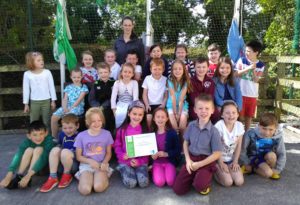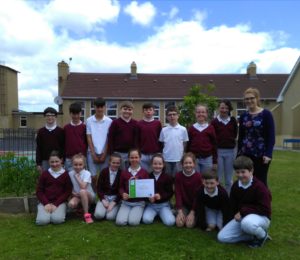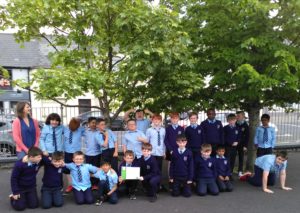 Limerick schools receiving their LEAF Certificate of Participation from LEAF Coordinator, Rachel Geary. Clockwise from top left; Scoil Mhathair De, Abbeyfeale, Scoil Ide Raithenach, Killoughteen National School and St. Mary's Boys National School, Abbeyfeale.

Over the course of the school year, almost 500 hundred trees were planted by the participating schools, with the majority of these trees planted during Tree Week in March.
The LEAF Team are very grateful to the staff at Coillte's Curragh Chase Forest Park for being so accommodating and supportive of the programme. The Forest Park is an amazing resource which is managed by Coillte, and covers 313 hectares of mixed woodlands, park land and lakes, which together provide a rich habitat for a diverse range of animals and plants. The LEAF Limerick project has been made possible with a grant from JS Greene Memorial Foundation.