LEAF Ireland and Coillte Announce the Delivery of Six New Outdoor Forest Classrooms
LEAF Ireland and Coillte are delighted to announce the delivery of six new Na Coillte Beaga (little woodlands) in primary and secondary schools across Ireland.  These schools are located in counties: Kerry, Offaly, Dublin, Louth, Wicklow and Donegal.  Planting began in Presentation Secondary School, Tralee, Co. Kerry, this Tuesday.  An Choill Bheag (AnCB) is a long-term educational programme, an initiative of LEAF Ireland and the Environmental Education Unit of An Taisce. The aim is to create small, dense native woodland habitats for biodiversity and an educational and recreational resource for the whole school community to enjoy.
Coillte is providing the native trees for the students to plant and is funding the delivery of the projects. The staff of the EEU is delivering the projects alongside the students and staff of the six schools.
The schools are involved in the entire process. They are encouraged to connect with woodland culture and biodiversity to understand their benefits to society, climate change, biodiversity and their local economy.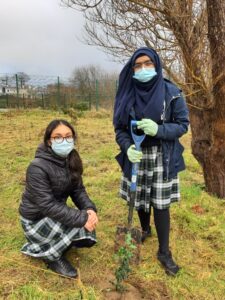 What is An Choill Bheag (little woodland) and what are the aims of AnCB?
They are outdoor living classrooms.
They are small, dense, biodiverse native woodland habitats on school grounds.
Students are involved in site selection and tree planting. AnCB encourages proactive, practical and sustainable tree planting.
Students learn the necessary skills to maintain, monitor and study this essential ecosystem. AnCB promotes long-term woodland and eco-system education and management.
As An Choill Bheag matures, nature trails can be developed.
"We are truly delighted to be working with LEAF Ireland and the Environmental Education Unit of An Taisce to deliver this fantastic outdoor educational resource for schools and their students," said Mark Carlin, Managing Director, Coillte Forest.
He Continued: "Students can learn about the wonderful benefits that trees and forests bestow in a fabulous outdoor setting – be it tackling climate change, biodiversity, recreational amenities, wood to build homes or helping their local economy,"
Rachel Geary from LEAF Ireland (EEU) said: "Climate change and biodiversity loss are the biggest issues facing us.  This collaborative initiative will provide an opportunity to tackle climate change and biodiversity loss at a community level by planting native trees with our schools across the country. Not only will we be planting trees, but we will also educate and raise awareness about the importance of trees and the multifunctional benefits of forests.