Four Little Woodlands Planted in Laois
Laois County Council and LEAF Ireland are planting four Na Coillte Beaga (little woodlands) in three schools and one Education Centre in Portlaoise, which has been designated a Decarbonisation Zone. 800 native trees will be planted in total. The four sites are Holy Family, Scoil Bhríde, Summerhill Campus and Portlaoise Education Centre.
An Choill Bheag is a long-term educational programme, an initiative of LEAF Ireland and the Environmental Education Unit (EEU) of An Taisce. The aim is to create small, dense native woodland habitats for biodiversity and an educational and recreational resource for the schools and centre to enjoy.
The four projects are being funded by Laois County Council and are being delivered by the staff of LEAF Ireland and the EEU of An Taisce. These little woodlands will provide an outdoor living classroom, a place where staff and students can connect with biodiversity. The An Choill Bheag initiative involves the students and staff in the entire process, from planning, to planting and maintenance.  Staff and students are encouraged to connect with woodland culture and biodiversity to understand their benefits to society, climate change, biodiversity, and their local economy.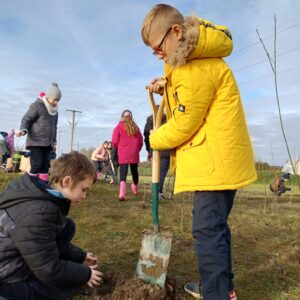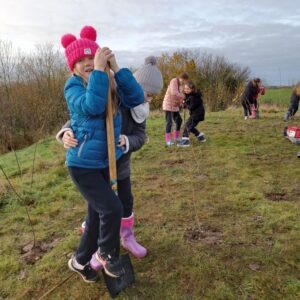 These native woodlands contribute to well-being and rapidly increase the amount of biodiversity, including bird and pollinator life, in the area. Once the trees are planted, schools and community groups are encouraged to introduce understory plants that further increase biodiversity.  Schools and community groups are encouraged to use dead logs to create seating areas, while natural log piles are a great way to create habitats and perimeter edgings.
Suzanne Dempsey, Laois County Council said: 'We are really excited to see the four An Choill Bheag grow and develop over the next few years along with the pupils' knowledge of trees and biodiversity through the education programme with LEAF.  This project would not be possible without the support of the Department of Housing, Local Government and Heritage through the Local Biodiversity Action Fund.'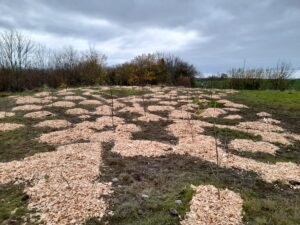 LEAF Ireland has planted twenty little woodlands to date (approximately 3,350 trees). Activities around these 'little woodlands' have involved over 2,000 individuals from 11 primary schools, six secondary schools, a Teacher Training 3rd Level College and two community groups. LEAF Ireland has also developed a range of educational resources to help support and guide the schools and community groups.
Rachel Geary, Woodland Programmes Manager of the EEU said: 'Despite their smaller size, An Choill Bheag presents a healthier and more biodiverse alternative to the trimmed lawns and concrete slabs that are so often seen on school grounds. They provide an opportunity to educate the next generation with hands-on knowledge and skills of natural spaces and encourage educators to use nature as a classroom.'