National Tree Day 7th October 2021 – Lá na gCrann 7ú Deireadh Fómhar 2021
Today is National Tree Day – Inniú Lá na gCrann.  
Celebrate the day with LEAF Ireland and An Choill Bheag!
Our colleague Aengus Kennedy has created these 3 lovely short videos about some of our native tree species:
The Oak – An Dair:
https://www.youtube.com/watch?v=XCdnjKQNgfs
The Scots Pine – An Péine Albanach:
https://www.youtube.com/watch?v=Jt3s6hvbs1U
The Wych Elm – An Leamhán Sléibhe
https://www.youtube.com/watch?v=LiW9YxaV-js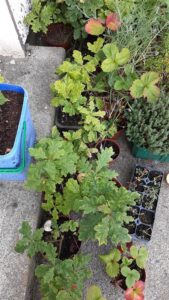 Another colleague Rob has shared a photo of his Oak Tree Nursery, which he started in pots.  They will need to be potted on or planted out this winter coming.
Look out for acorns, hazel nuts and other tree seeds on your nature walks, that you can plant to create your own little tree nursery.   
#LEAFIreland have an educational Tree Nursery pack here, that you can download and use to do it yourself:
https://leafireland.org/wp-content/uploads/2020/04/LEAF-Tree-Nursery-Project-low-res.pdf
The Tree Council of Ireland celebrate this day and have chosen the Wild Cherry Tree (Crann Sílíní Fiáin) as the native Irish tree species to highlight this year.
For more educational resources and information:  https://www.treeday.ie
On another note, we will be taking part in a Trees & Planting webinar next Tuesday 12th October from 1-2pm, being organised by #GreenCampusIreland as part of #ClimateActionWeek2021.  Register here: https://greencampus.exposure.co/climate-action-week-2021
Bain taitneamh as an Fómhar ag cuir aithne ar na crainn thar timpeall do baile – enjoy the Late Autumn getting to know the trees living close to you!
The LEAF & An Choill Bheag Team